Christmas can get pretty expensive, especially if you have a lot of people to buy for! I've put together a list to help give you some ideas for gifts under £20, presents that are great if you have a lot of people to buy for.
Firstly there's the obvious skincare gift sets! I think these are really good and you can pretty much find one for whoever your buying for, I think this
Zoella gift set
would be a really good choice for a preteen. Superdrug currently has up to
half price on selected gift sets
, definitely worth checking out for a bargain!
Hot chocolate jars are really good as gifts to give out to almost anyone, you can also make a few at once so its great if you have a few school friends you need to buy for or as stocking fillers. You can decorate them how you want to make them look really Christmassy, and who doesn't like a cosy night in with a hot chocolate at this time of year! You can buy jars online or in most supermarkets so they're really easy to get hold of and they aren't usually very expensive.
One present I would definitely be more than happy to receive is a lush gift set! They're also great because you can find one to suit your budget,
this one
is only £9.99. There's also
this one
is at the higher end of the £20 budget but I was actually surprised at how much was in the set. If you know any Lush enthusiasts like myself this will definitely be a great gift! I might have to try a few of the products in these gift sets myself...for research purposes.
I'm a big fan of personalised presents, I just think its so nice to give a gift that really means something to them. I found these
personalised coasters
, I think these are a sweet present. I think these would be a really nice present for a family member if you add some lovely family photos.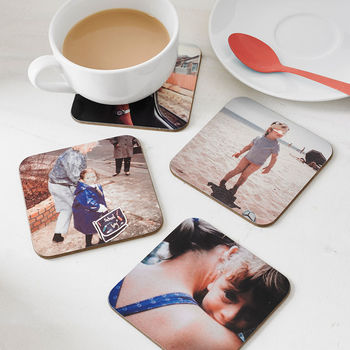 If you have someone who isn't all that into beauty, or someone who is already up to their eyeballs in products then a book could be a good idea. If you know there's a certain celebrity they are a fan of you could get their book. Maybe even a
cook book
if you know someone's into baking! WH Smith has a sale on right now so you'll definitely be able to find something they like for under £20. If you know they prefer to read electronic books then you could also get them a voucher so they can go and buy whatever books they like, also great if you're not sure exactly which one to get!
Jewellery can be a bit of a tricky one for under £20 but I found these
gorgeous earrings
on Not On The High Street that would be prefect for a friend. They're also really simple so they'll suit a lot of peoples style.
CHOCOLATE! You cant have to much chocolate at Christmas and you can get some really nice stuff for the under £20 budget. I love these
personalised truffles
from Thorntons if you're looking for something a little bit more special than just chocolate. I also found
these cuties
while I was having a look around, they look so yummy! Plus can you really go wrong with chocolate.
I hope this has helped you out or at least given you some inspiration! This has mainly been aimed a females, maybe I'll do another post aimed at guys as I'm sure I'm not the only one who struggles to buy for them!